Senate Votes to Revisit Stalled Immigration Bill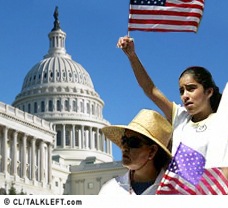 Just when you thought it was over, the Senate today voted to review the immigration bill. Debate is beginning now on dozens of amendments. You can watch it on C-Span here.
Prediction: The compromises will dilute the value of the bill to nothing. The path to citizenship is already is too onerous. Family reunification principles are already devalued. Concessions to Republicans are likely to make it worse.
The bill is S 1639, which you can view on THOMAS by typing the bill number in the search box.
There is one bi-partisan amendment that I favor and the Bush Administration opposes:
More...