Two Views on Guantanamo: Which Is Yours?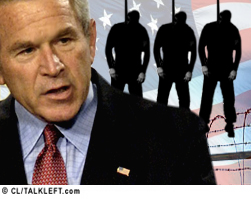 Tomorrow at 2:00 pm ET, the House Judiciary Subcommittee on the Constitution, Civil Rights, and Civil Liberties Oversight will hold a hearing on Habeas Corpus and Detentions at Guantanamo Bay.
Morris D. Davis is the chief prosecutor in the Defense Department's Office of Military Commissions. In the New York Times today, he provides what he believes to be a vigorous defense of the commission procedures.
Let's take a look at his arguments, which in my view, by their omissions, amount to misreprsentations:
Many critics disapprove of the potential admissibility of evidence obtained by coercion and hearsay. Any statement by a person whose freedom is restrained by someone in a position of authority can be viewed as the product of some degree of coercion. Deciding how far is too far is the challenge. I make the final decision on the evidence the prosecution will introduce. The defense may challenge this evidence and the military judge decides whether it is admitted. If it is admitted, both sides can argue how much weight, if any, the evidence deserves. If a conviction results, the accused has the assistance of counsel in four stages of post-trial appellate review. These are clearly robust safeguards.
After arguing in favor of the hearsay standard used at the tribunals, he concludes:
More....