Missing: RNC E-Mails of White House Officials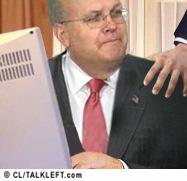 The House Oversight Committee has issued a report finding that e-mails of White House officials who used their RNC account are missing.
E-mail records are missing for 51 of the 88 White House officials who had electronic message accounts with the Republican National Committee, the House Oversight Committee said Monday.

The Bush administration may have committed "extensive" violations of a law requiring that certain records be preserved, said the committee's Democratic chairman, adding that the panel will deepen its probe into the use of political e-mail accounts.
The full report is here (pdf). Dan Froomkin has some highlights:
More...
There has been extensive destruction of the e-mails of White House officials by the RNC. Of the 88 White House officials who received RNC e-mail accounts, the RNC has preserved no e-mails for 51 officials.... In addition, there are major gaps in the e-mail records of the 37 White House officials for whom the RNC did preserve e-mails. The RNC has preserved only 130 e-mails sent to Mr. Rove during President Bush's first term and no e-mails sent by Mr. Rove prior to November 2003. . . .

" .... There is evidence that the Office of White House Counsel under Alberto Gonzales may have known that White House officials were using RNC e-mail accounts for official business, but took no action to preserve these presidential records."