Rudy Makes a 12-Step Plan for America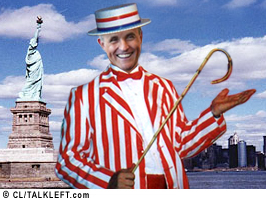 Rudy Giuliani unveiled his 12 step plan for America today.
Shorter version: What war in Iraq, the only war I'm equipped to deal with is the war on terror.
[N]oticeably absent from the speech was any mention of the war in Iraq, likely to be the central challenge for any new president.

Asked afterward about the omission, the candidate said Iraq must be viewed in the context of a broader fight against terrorism. It was not dealt with singly in the speech, he said, because the fluid situation there makes it hard to speak in specifics about the war.
More...