Is Carl Bernstein a Sexist?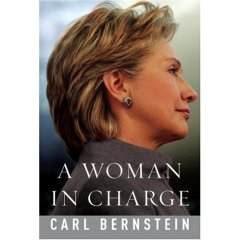 It's been decades since I read Nora Ephron's Heartburn, her novel based on the crumbling of her marriage to Watergate reporter Carl Bernstein, so I don't have a ready answer as to whether Bernstein is a sexist. But judging from his new book on Hillary Clinton, I wouldn't be surprised.
Check out these passages from the book:
"The prospect that she could not bear a child, which seemed increasingly likely in the first two years of her marriage--and which she probably feared even earlier—could have been as frightening to her as anything she might conjure….Hillary suffered from a condition called endometriosis, which often makes conception difficult, can cause infertility, and frequently results in extreme pain during and after intercourse.'" (P. 149-50)
"'She's not a heavy-duty intellectual. He's much brighter than she is. She's bright, but she's not very bright…" (p. 275).
"Her ankles were thick." (p. 32)
"'At first, she didn't wear stockings….Her hair was friend into an Orphan Annie perm….There wasn't one…feminine thing about her.'" (p. 130)
More...