Libby: Government Files Sentencing Guideline Calculations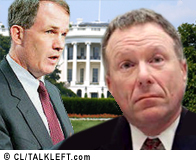 Earlier I wrote about the Government's sentencing memorandum for Scooter Libby, and noted that it would be filing an explanation of how it calculated Libby's guidelines at 30 to 37 months. I've uploaded the newly filed calculations here, and I have to say, I disagree with them. As does the Probation Department.
It's a very complicated calculation because instead of just using the perjury, obstruction and false statement guidelines, it asks the Court to cross-reference those guidelines with the higher guidelines for violations of the IIPA and Espionage Act.
More....
It spends a lot of time explaining (and submits 30 pages of exhibits in a separate document, which I will upload if there's interest expressed in the comments) why Valerie Plame Wilson was a covert agent and why, because the investigation pertained to whether there was a violation of the IIPA and Espionage Acts, Libby should be sentenced as an Accessory After the Fact to those offenses.
According to the Government, the Probation Department did not believe those guidelines should apply because there was no evidence in the proceedings that Valerie Plame Wilson was covert. The Judge expressly said that wasn't an issue at the trial. The Government says, nonetheless, that's what its investigation was about and Libby lied and obstructed it.
Even though Libby hasn't filed a Sentencing Statement yet, from the Government's calculation memo, it's clear Team Libby laid out its position in its non-publicly filed Objections to Pre-Sentence Report. No doubt they were happy with the Probation Department's calculations. I'll bet they file a response now though.
Also, according to the Government, Libby is asking for a downward departure from the guidelines. His reasons:
His record of public service
His loss of his law license
His financial loss due to legal expenses. It appears he is also asking the court to consider the legal fees to be incurred with civil suits filed against him.
Non-likelihood of recidivism.
Aberrant Behavior (a single act or course of action in an otherwise unblemished life)
And, in case you were wondering, his legal fees in the criminal case, according to the Probation Department, exceeded $5 million, not including sentencing.