Scooter Libby: Gov't Seeks 30 to 37 Month Sentence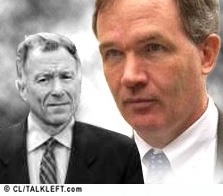 The Government filed an 18 page sentencing memorandum for I. Lewis "Scooter" Libby today. You can read it here. In the memorandum, the Government says Libby's guidelines are 30 to 37 months and asks the Court to follow the guidelines. The Government said it will follow-up with a filing explaining how it arrived at the guideline range later today. As of now, it has not been filed.
My initial calculation of the guidelines, with links to the specific provisions, is here. Christy at Firedoglake provides her take and Josh Gerstein of the New York Sun reported today. (Both were written before the Government's memorandum was filed.)
Points of interest. The Government did not say it agreed with the Probation Department's calculations of the Guidelines, it said it believed the guideline range to be 30 to 37 months. It may be that the Probation Department calculated the guidelines to be lower than that.
Also, Libby has not filed a Sentencing Memorandum, at least as yet. There are a few explanations for this.
More...