Calif. Proposes New Execution Procedures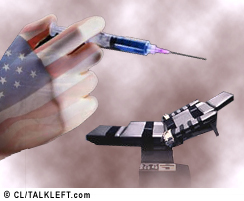 California prison authorities proposed their new plan for executions today, aimed at alleviating criticism over past practices, in which there was no assurance the dying inmate wasn't feeling pain.
Gov. Arnold Schwarzenegger praised the new plan.
Aiming at ending a 16-month legal moratorium on capital punishment in California, state corrections officials today proposed new lethal injection execution procedures they say "will result in the dignified end of life" for condemned inmates.

The state acted in response to a December decision by U.S. District Judge Jeremy Fogel, who concluded that the state's implementation of the death penalty amounted to cruel and unusual punishment and may have subjected six inmates to excruciatingly painful ends.
The new proposals are listed below: