Iraq to Bar Media Coverage of Bombings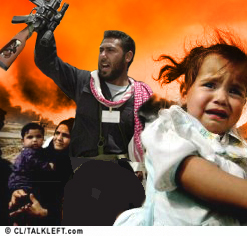 Yesterday, I was filling in for Jane at Firedoglake and I wrote about the new decision by the Iraqi Government to ban the news media from covering bombing scenes.
Iraq's interior ministry has decided to bar news photographers and camera operators from the scenes of bomb attacks, operations director Brigadier General Abdel Karim Khalaf said on Sunday (local time).

His announcement was the latest in a series of attempts to curtail press coverage of the ongoing conflict, which has already attracted criticism from international human rights bodies.
That got me thinking.
How real is the War in Iraq to Americans who don't have a loved one fighting in the conflict? Where has the news coverage been of the gory daily details?

For those of you old enough to remember the media coverage of the Vietnam War, you'll remember how vividly it was brought to us every evening on our television screens by the nightly news programs.

Without the internet or e-mail, a massive anti-war movement grew. I don't think anyone doubts that it contributed to the war's end.
More...