Creator of Lethal Injection Procedure Defends His Work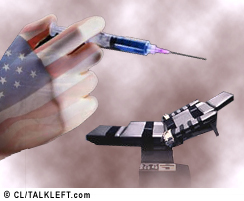 Who devised the three-drug cocktail for lethal injections? An Oklahoma doctor and medical examiner named Jay Chapman. 30 years later, and in the face of numerous court challenges, he defends his baby.
A sample of his thoughts:
If states are looking for a way to quickly and painlessly put someone to death, he has a suggestion.

"There is absolutely nothing wrong with the guillotine," he said impatiently. "It can be operated by an idiot and it is a very effective instrument."