Sharpton on Imus: Post Show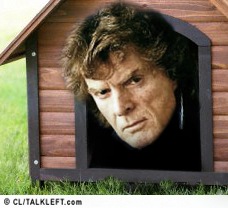 Rev. Al Sharpton was on CNN's Situation Room today, discussing Don Imus's appearance on his radio show.
Interesting that John McCain and James Carville have said they will continue to go on Imus' show. As I suggested here, since corporate dollars are at stake making it unlikely Imus will be fired, the most effective way of silencing him would be for his advertisers and prominent guests to boycott him. And for those who want to help kids with cancer to give to St. Jude's instead of his ranch.
Here's the transcript (received by e-mail from CNN):
BLITZER: Saying sorry is apparently hard to do, especially when you are being grilled for racially insensitive comments. That's what Don Imus faced today over comments he made about a woman's basketball team. The person he faced, the Reverend Al Sharpton. Reverend Sharpton is joining us now from New York. Reverend Sharpton, thanks for coming in.

AL SHARPTON, CIVIL RIGHTS ACTIVIST: Thank you.

BLITZER: All right, so, did he reassure you, or you still want him fired?

SHARPTON: Oh, no, we want him fired.
More...