Report: Conditions at Guantanamo Worsen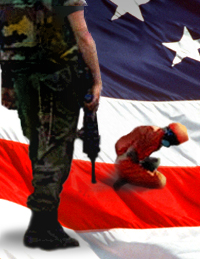 Amnesty International released a new report today, "USA: Cruel and Inhuman -- Conditions of Isolation for Detainees in Guantanamo Bay."
More than 80% of the 385 detainees are held in isolation, "a reversal of earlier moves to ease conditions and allow more socializing among detainee." While some detainees are held in solitary confinement at Camp Echo and Camp 5, conditions are worst at Camp 6, which opened in December.
Detainees are reportedly confined for 22 hours a day to individual, enclosed, steel cells where they are almost completely cut off from human contact. The cells have no windows to the outside or access to natural light or fresh air. No activities are provided, and detainees are subjected to 24- hour lighting and constant observation by guards through the narrow windows in the cell doors. They exercise alone in a high-walled yard where little sunlight filters through; detainees are often only offered exercise at night and may not see daylight for days at a time.
Many of these detainees have been held for more than five years without charges.
More...
While the United States has an obligation to protect its citizens and those living within its borders from attacks by armed groups, that does not relieve the United States from its responsibilities to comply with human rights and the rule of law. By rounding up men from all over the world and transporting them to an isolated penal colony, holding them without charge or trial, the United States has violated several U.S. and international laws and treaties. Statements by the Bush Administration that these men are "enemy combatants," "terrorists" or "very bad people" do not justify the complete lack of due process rights.
It's time to close Guantanamo and end the unfair military tribunals. The detainees should be charged or released, and if charged, should face trial under the Military Code of Justice. Enough is enough.