Bush Seeks to Reduce Gitmo Detainees' Access to Counsel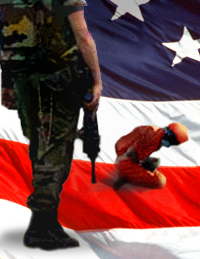 Not content to seek to deprive the Guantanamo detainees of habeas corpus and access to the federal courts to challenge the conditions of their confinement, the Bush Administration is taking it one step further. Now, it wants to limit the detainees' access to their lawyers.
Saying that visits by civilian lawyers and attorney-client mail have caused "intractable problems and threats to security at Guantánamo," a Justice Department filing proposes new limits on the lawyers' contact with their clients and access to evidence in their cases that would replace more expansive rules that have governed them since they began visiting Guantánamo detainees in large numbers in 2004.
What limits does the Administration want to impose? Read on...