Study: Lethal Injection in Executions May Cause Death by Chemical Asphyxiation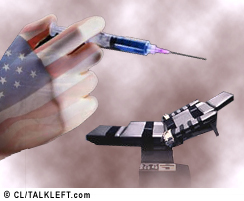 A medical study out today casts new doubt on whether lethal injection causes the painless death we've all been told.
The study analyzed executions in two states, California and North Carolina. The findings:
We were able to analyze only a limited number of executions. However, our findings suggest that current lethal injection protocols may not reliably effect death through the mechanisms intended, indicating a failure of design and implementation. If thiopental and potassium chloride fail to cause anesthesia and cardiac arrest, potentially aware inmates could die through pancuronium-induced asphyxiation. Thus the conventional view of lethal injection leading to an invariably peaceful and painless death is questionable.
More...
How the study came about:
Recently we reported that in most US executions, executioners have no anesthesia training, drugs are administered remotely with no monitoring for anesthesia, data are not recorded, and no peer review is done [7]. We suggested that such inherent procedural problems might lead to insufficient anesthesia in executions, an assertion supported by low postmortem blood thiopental levels and eyewitness accounts of problematic executions. Because of a current lack of data and reports of problems with lethal injection for executions, we sought to evaluate the three-drug protocol for its efficacy in producing a rapid death with minimal likelihood of pain and suffering.