Former Gore Aides Asked to Keep an Opening for Him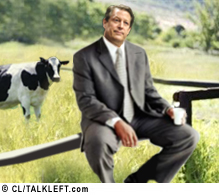 Update: Gore staffers deny the report.
*******
The Telegraph reports that former Gore aides have met in secret and been queried on whether they'd come to work for him if he decided to enter the presidential race.
....aware that he may step into the wide open race for the White House, former strategists are sounding out a shadow team that could run his campaign at short notice. In approaching former campaign staff, including political strategists and communications officials, they are making clear they are not acting on formal instructions from Mr Gore, 59, but have not been asked to stop.

One of his former campaign team said: "I was asked whether I would be available towards the end of the year if I am needed. They know he has not ruled out running and if he decides to jump in, he will have to move very fast. "He hasn't asked them to do this, but nor has he told them not to."
Former President Clinton also suggested on Larry King Live last week that Gore might run.
I disagree with those who think the nomination is his for the asking. Plus, I really don't want him to run. I'm happy with the candidates already in the running, particularly Hillary and John Edwards.
More...