NY Times Public Editor Examines Paper's Duke Coverage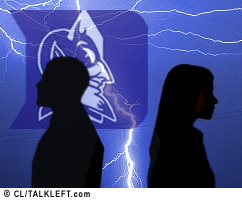 New York Times Public Editor Byron Calame today examines the paper's coverage of the Duke Lacrosse players false sexual assault charges.
At one point he discusses whether the false accuser should be named now. He concludes:
Times editors discussed whether "to stick to our policy of not naming accusers in sexual assault cases," Mr. Keller told me, "and decided to do so." My first instinct was that The Times should strongly consider adopting a policy of naming false accusers. Then I decided that the mental health of the Duke accuser and the failure of Mr. Nifong to limit the harm she caused by doing his job responsibly combined to keep this case from being a good one on which to debate such a policy change. But I hope Times editors will soon consider holding a discussion, free of deadline pressure, about what purpose the tradition of not naming sexual assault victims serves when their accusations are proved to have no merit.
I disagree. The moment the charges were dismissed, upon the Attorney General's finding there was no credible evidence to support her claim that any attack occurred that night, she became a false accuser. Her name should be published so that she can no longer hide behind the victim label. Mentally ill or not, she caused incalculable damage to the lives and reputations of three innocent young men, who will be traumatized by the ordeal for years to come.
More...