Will Dumping Gonzales Really Make a Difference?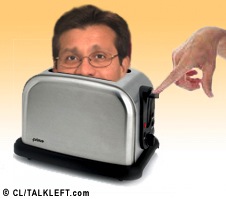 Conservative and liberal bloggers alike are predicting a downfall for Attorney General Alberto Gonzales.
If you missed today's hearing, and don't have the time to watch it, here's the full transcript.
And this from the New York Times news article (not editorial) on the hearing:
In more than five hours of often-combative testimony, Mr. Gonzales, who sat grim-faced, clasping his hands and hunched over, struggled to offer a coherent explanation for the dismissals. He apologized for his mistakes in what he described as a flawed process, but defended the removal of eight United States attorneys as proper.
I'm not as charged up about this as most people. What will change with Gonzales gone? Bush will appoint another one of his loyal faves to replace him. The war on drugs, war on civil liberties and trend towards draconian sentences will continue. Say what you want about Gonzales, he's nowhere near the threat to constitutional rights that John Ashcroft was. He's continued Ashcroft's policies, but he seems to be more of a follower than a take-charge innovator of new ways to deprive people of their freedom.
More...
As for the fired U.S. Attorneys, they all got the job in the first place because they had connections ... either to their state's Senators or to someone in the Bush Administration. None of them got the job because they were the most skilled litigators in their respective jurisdictions. Once installed in the top position, they all put people in jail, including non-violent drug offenders. They're prosecutors, that's what they do.
As for the argument that morale at the 93 U.S. Attorneys' office around the country is foundering, I'm not seeing it in Colorado. I didn't see it in Omaha earlier this week. Every day around the country, defendants are being convicted and sentenced to overly long prison sentences. Maybe morale is low at Main Justice, but it should be. They got caught with their pants down and tried to finagle, if not lie, their way out of it. But, everywhere else in the country according to the lawyers I speak with on both sides, it's business as usual.
So I'm finding it to be less and less an interesting story. Especially now that everyone wants to jump on the Dump Gonzales bandwagon. As if dumping him will make our criminal justice system any fairer.
What we need is to focus on getting a Democrat elected in 2008, one who has progressive views on criminal justice and will appoint an Attorney General who shares those views.
Since Bush isn't running again, replacing Gonzales between now and 2008 doesn't get us there.
(Note: Big Tent Democrat disagrees with me and I hope he continues his excellent posts on the topic. I'm just explaining why I haven't gone postal over it.)