Will Dumping Gonzales Really Make a Difference?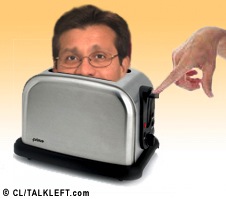 Conservative and liberal bloggers alike are predicting a downfall for Attorney General Alberto Gonzales.
If you missed today's hearing, and don't have the time to watch it, here's the full transcript.
And this from the New York Times news article (not editorial) on the hearing:
In more than five hours of often-combative testimony, Mr. Gonzales, who sat grim-faced, clasping his hands and hunched over, struggled to offer a coherent explanation for the dismissals. He apologized for his mistakes in what he described as a flawed process, but defended the removal of eight United States attorneys as proper.
I'm not as charged up about this as most people. What will change with Gonzales gone? Bush will appoint another one of his loyal faves to replace him. The war on drugs, war on civil liberties and trend towards draconian sentences will continue. Say what you want about Gonzales, he's nowhere near the threat to constitutional rights that John Ashcroft was. He's continued Ashcroft's policies, but he seems to be more of a follower than a take-charge innovator of new ways to deprive people of their freedom.
More...