Giulani in Oklahoma Today, Leading the OKC Memorial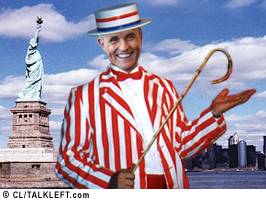 Rudy Giuliani spent today in Oklahoma City, trying to perfect his image as terrorist victim soother.
Presidential hopeful Rudy Giuliani told the crowd at the former site of the Alfred P. Murrah Federal Building that the response to the 1995 attack serves as an example to others recovering from violence.

The people of Oklahoma City "became a model of compassion and strength, both, a model that helped us several years later get through Sept. 11 and a model that will help the people of Virginia Tech get through the terrible agonies that they are going through right now," said Giuliani, who was New York's mayor during the 2001 terrorist attacks.
A much better glimpse into Giuliani is provided by Watertiger over at Firedoglake.