Giuliani Agrees With Decision on Partial Birth Abortion Ban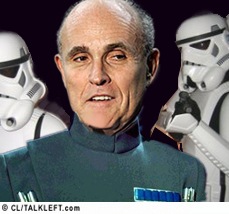 Just so no one is in doubt that Rudy Giuliani either will change any position for a vote or is a dictator at heart who will trample our rights, here's his statement on today's Supreme Court decision upholding the the federal partial birth abortion ban,
"The Supreme Court reached the correct conclusion in upholding the congressional ban on partial birth abortion," Giuliani said in a statement on the 5–4 decision. "I agree with it."
In 2000, during his aborted run for the Senate, he promised differently:
...he said he would not vote to restrict a woman's right to undergo the procedure. Now, with social conservatives believed to be a major factor in the GOP primary, Giuliani joined the other top-tier Republicans in applauding the court's ruling.
Wasn't it just a few weeks ago he wanted to leave it to the states?
More below, including John Edwards and Barack Obama's criticism of the decision.
"I strongly disagree with today's Supreme Court ruling, which dramatically departs from previous precedents safeguarding the health of pregnant women," Sen. Barack Obama (D-Ill.) said. "As Justice Ginsburg emphasized in her dissenting opinion, this ruling signals an alarming willingness on the part of the conservative majority to disregard its prior rulings respecting a woman's medical concerns and the very personal decisions between a doctor and patient."

Former North Carolina senator and Democratic vice presidential candidate John Edwards also said he strongly disagrees with the "hard right turn" by the Supreme Court, adding that the move serves as a "stark reminder of why Democrats cannot afford to lose the 2008 election."

"Too much is at stake — starting with, as the Court made all too clear today, a woman's right to choose," Edwards said.
Update: Check out Christy at Firedoglake on today's decision.