Gonzales and the Smoking Chart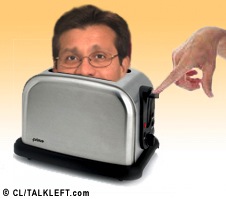 Uh-Oh. Firedoglake reports things just got a lot worse for Attorney General Alberto Gonzales and his former sidekick, Kyle Sampson. As spotted by a commenter at Daily Kos in today's document dump, Set 5 p 14. (pdf) (2/12/07 From Monica Goodling):
"This is the chart that the AG requested. I'll show it to him on the plane tomorrow if he's interested"
He requested the chart. But when? When it was made? The chart (scroll down from the email on page 14) shows the fired U.S. Attorneys and their proposed replacements, some of whose names have been redacted.
Gonzales testified under oath he did not have this information and was not involved in the replacements. Kyle Sampson said he did not have a list. Here's a list, from January, 2006.
Are dates a factor here?