Duke Accuser: Should She Be Named Now?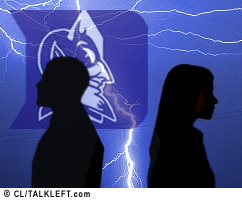 Fox News, Scripps Howards newspapers and others are now naming the accuser. Fox has published photos of her.
Should she be named now? Her name, Crystal Gayle Mangum, has been all over the internet for many months, as have details of her prior criminal record.
I have never approved of the media policy of withholding the name of the accuser while publishing the name of the accused.
Nonetheless, I have insisted that on TalkLeft and on the TalkLeft Duke Forums (on which more than 59,000 comments have been posted on more than 1,200 threads) her name not be used.
Tonight, I'm ending the ban on the use of her name on both sites. She has officially been declared not to be a rape victim. She is a false accuser. She has no right to be shielded any longer.
I'll also have an op-ed in tomorrow's Washington Examiner on the case, titled "The Travesty of the Duke Case." It focuses on how the Duke case should forge a new frontier to protect those who are wrongfully accused.