Hillary Raises $26 Million, Shatters Records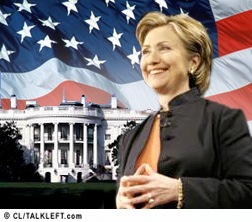 Hillary Clinton raked it in this quarter.
Shattering previous records, Democrat Hillary Rodham Clinton collected $26 million for her presidential campaign during the first three months of the year and transferred an additional $10 million from her Senate fundraising account, aides said Sunday. The New York senator's total included $4.2 million raised through the Internet.

The amount outdistanced past presidential election records and set a high bar by which to measure the fundraising abilities of her chief rivals.
I wonder how Rudy Giuliani did.
Update: John Edwards raised $14 million.