Libby Verdict: What about Cheney?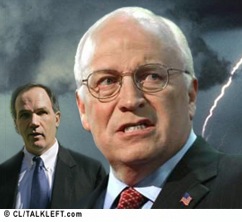 I think a lot of the interest in the Libby trial has been the repercussions to Vice President Cheney if Libby was convicted.
During closing arguments, Fitzgerald said there was a cloud over the White House and the Vice President.
At the press conference today, Fitzgerald was very clear that he does not expect to bring additional charges in the case. They are all going back to their day jobs. The investigation is now inactive.
Joseph Wilson's statement, through his lawyers, is here.
He will be on MSNBC's Countdown and CNN's Larry King Live tonight.