Libby: New Jury Note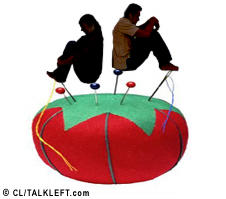 Via Marcy at Firedoglake, there's another jury note, Wells looks happy, Fitzgerald does not. They are discussing how to answer and will reconvene at 4:30 ET. I'll stay online to update.
Update: DOJ spokesperson Randall Samborn says "The parties have been asked to meet in Court at 4:05 p.m. today Monday March 5 to review a note with questions that the Court has received from the jury."
So, there's more than one question.
More....