On Monica Goodling's Taking the Fifth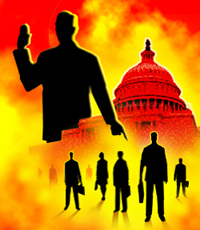 The blogosphere is all over the map on whether Monica Goodling has the right to invoke her 5th Amendment privilege against self-incrimination and refuse to testify before a Congressional committee investigating the firing of U.S. Attorneys.
I think she has the right to take the 5th. And, here's what a TalkLeft reader, who happens to be a former high-ranking Justice Department official during the Clinton Administration, whom I have known for many years and have the utmost respect for, writes in to say:
More...