Rudy Flip-Flops on Guns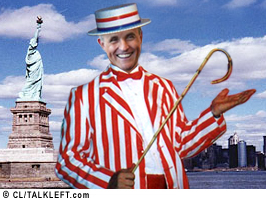 Rudy Giuliani once again re-invents himself to cater to the Republican conservative base. Now he's flip-flopping on gun rights.
As Mayor of New York:
He spoke in favor of a licensing system for gun owners that would require trigger locks and firearms training, and he lobbied Congress to outlaw most military-style assault weapons. He was the only Republican mayor to join a lawsuit by dozens of cities against the gun industry, and he complained that Southern states had lax gun laws that fed the illegal weapons trade in the Northeast.
In his current attempt at recarnation as a presidential contender, he's reversed course:
More...