Spying For Bush: Bloomberg Used NYPD To Surveil Protesters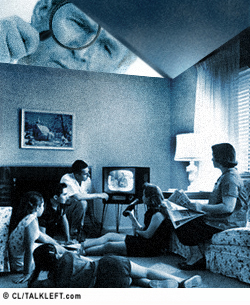 Bumped...
For at least a year before the 2004 Republican National Convention, teams of undercover New York City police officers traveled to cities across the country, Canada and Europe to conduct covert observations of people who planned to protest at the convention, according to police records and interviews.

From Albuquerque to Montreal, San Francisco to Miami, undercover New York police officers attended meetings of political groups, posing as sympathizers or fellow activists, the records show.

From these operations, run by the department's "R.N.C. Intelligence Squad," the police identified a handful of groups and individuals who expressed interest in creating havoc during the convention . . . But potential troublemakers were hardly the only ones to end up in the files. In hundreds of reports stamped "N.Y.P.D. Secret," the Intelligence Division chronicled the views and plans of people who had no apparent intention of breaking the law, the records show.
Yes, that is how police states are operated.
More...