Bi-Partisan Guest Worker Bill Introduced in House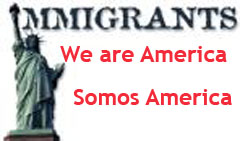 Is Immigration reform on the horizon?
A bipartisan proposal for comprehensive immigration reform that would allow millions of illegal immigrants to participate in a guest-worker program and possibly gain citizenship was introduced in the House yesterday, the first to be submitted since Democrats took control of Congress this year.

The proposal from Reps. Jeff Flake (R-Ariz.) and Luis V. Gutierrez (D-Ill.) is a far cry from a measure passed by the Republican-controlled House in 2005 that focused on tough enforcement actions to reduce illegal immigration. The House bill died in a conference committee along with a competing Senate bill that was similar to the Flake-Gutierrez proposal.
Of course, Tom Tancredo calls it an amnesty bill. It's anything but. My question is, is it enough? I haven't seen a copy of the bill, but I'll update when it becomes available.