N.C. Attorney General Denies Duke Lacrosse Charges to Be Dropped This Week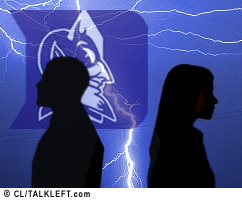 Rumors have been rampant this week that the North Carolina's Attorney General's office would be announcing the dismissal of all charges against the three accused former Duke Lacrosse players.
The Attorney General's office now says, "Not so fast." It's not true...at least not this week.
Our review of the case, including reviewing documents and conducting interviews, is continuing," Talley said. "[A] decision hasn't been made. ... We expect our review of the case to wrap up within the next few weeks and ... no announcements about the case by our office have been scheduled."