U.S. Attorney to Move for Jack Abramoff Sentencing Reduction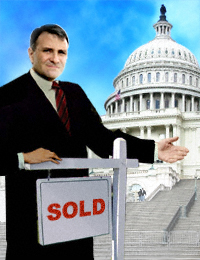 I'm not sure why this is news since it was all but assured in Jack Abramoff's plea agreement, but the U.S. Attorney in Florida has signaled he will be requesting a reduction in Jack Abramoff's 5 year 10 month sentence.
Abramoff's plea agreement is here. As I wrote at the time of his sentencing,
I don't think Abramoff will do more than three to four years. But, with a $21 million restitution order hanging over his head, he may never be a fat cat again.

....I ...think he will get a 50% reduction in the Washington case, and a further Rule 35 reduction in the Florida case so both come out to about or just under four years.
Abramoff has continued cooperating since his sentence and incarceration. He will get credit for everyone who he cooperated against who has since pleaded guilty or been found guilty. That's the way our system works. It's called moral bankruptcy.