Libby Jurors Raise Question About Reasonable Doubt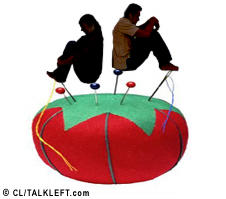 The jury in the Scooter Libby trial sent two questions to the Judge today before leaving early for the weekend. You can view them here.
The one about reasonable doubt is the most interesting.
We would like clarification of the term "reasonable doubt." Specifically, is it necessary for the Government to present evidence that it is not humanly possible for someone not to recall an event in order to find guilt beyond a reasonable doubt.
The jury instruction on reasonable doubt is here.
Update: My thoughts below: