Guantanamo Detainee David Hicks Charged With Terror Crime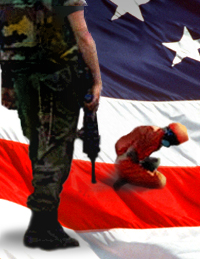 After 5 years in captivity at Guantanamo, Australian David Hicks was charged with a terror crime Thursday, for which he will face trial by military tribunal.
A charge of attempted murder was rejected, and Hicks will be tried for the catch-all crime of providing material support to terrorists.
Under the Military Commissions Act, Hicks must be arraigned within 30 days and a military judge will have 120 days to form the military commission.
As to the specific acts Hicks is believed to have committed:
According to Pentagon documents, Hicks went to Afghanistan in January 2001 to attend al-Qaida terrorist training camps. He also traveled to the southern city of Kandahar, the former Taliban stronghold, and stayed in an al-Qaida guest house where he met "shoe bomber" Richard Reid and other al-Qaida associates.

The Pentagon says that for about a year starting around December 2000, Hicks provided "support or resources to be used in preparation for, or in carrying out, an act of terrorism" and that he "knew or intended" for the support to be used for terrorism.
Senior lawyers in Australia have called the tribunals a "kangaroo court." Australian Premier Steve Bracks says Hicks deserves due process. Australian Foreign Minister Alexander Downer is touting his country's influence with the Bush Administration because Hicks will be the first detainee tried.
"Our Government has got Hicks to be the first person to be tried. "We just want the trial held, over and done with, out of the way, and Hicks brought back to Australia - that is our objective."
Hicks
alleges he was tortured
while at Guantanamo.
ALISON CALDWELL: Soon after he arrived at Guantanamo Bay's Camp X-ray, David Hicks was shown a photo of a battered Mamdouh Habib.
Habib's face was bruised black and blue. "I thought it was a photo of a corpse," says David Hicks. "I was told I'd be sent to Egypt and suffer the same fate if I didn't co-operate with my US interrogators."
David Hicks' detailed claims of sustained and deliberate torture and mistreatment are contained in a document, which will be presented to a British court in May, as he pursues British citizenship.
By the time he was interviewed by agents with Britain's MI5, in April 2003, David Hicks says the anxiety and fear brought about by the abuse forced him to, in his words, "say anything to his interrogators to avoid further punishment."
Update
: A
plea deal may be in the works
that would allow Hicks to plead guilty and return to Australia, possibly for immediate release.