Tony Snow: Backtracks on Harriet Miers as Orginator of U.S. Attorney Firing Idea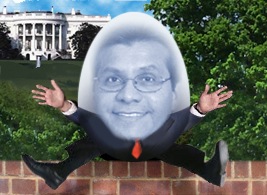 White House Press Secretary Tony Snow today backtracked off the Harriet Miers story. He says people's memories are now hazy.
"It has been described as her idea but ... I don't want to try to vouch for origination," said White House press secretary Tony Snow, who previously had asserted Miers was the person who came up with the idea. "At this juncture, people have hazy memories."
Sung to the tune of Jimi Hendrix.
Purple haze all in my brain
Lately things just dont seem the same
Actin funny, but I dont know why
scuse me while I kiss the sky
I'll be discussing the firings on CNN's Reliable Sources Sunday morning at 10:00 am ET.
Update: New York Times on Snow's statement.