FDA Requests Stronger Ambien Warnings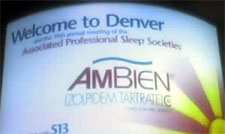 In addition to sleep-driving, sleep-eating emerging as side effects of Ambien, Lunesta and similar hypnotic-sedative sleeping pills, there is also sex while sleeping.
The FDA is asking the makers of Ambien and similar drugs to strengthen the label warnings on the drugs to disclose these and other risks.
More....