Impeach Alberto Gonzales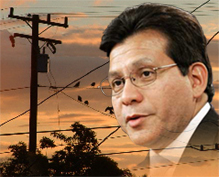 (Again, just speaking for me, not Talk Left.)
The New York Times Editorial Page:
During the hearing on his nomination as attorney general, Alberto Gonzales said he understood the difference between the job he held — President Bush's in-house lawyer — and the job he wanted, which was to represent all Americans as their chief law enforcement officer and a key defender of the Constitution. Two years later, it is obvious Mr. Gonzales does not have a clue about the difference.

He has never stopped being consigliere to Mr. Bush's imperial presidency. If anyone, outside Mr. Bush's rapidly shrinking circle of enablers, still had doubts about that, the events of last week should have erased them.

. . . It was Mr. Gonzales, after all, who repeatedly defended Mr. Bush's decision to authorize warrantless eavesdropping on Americans' international calls and e-mail. He was an eager public champion of the absurd notion that as commander in chief during a time of war, Mr. Bush can ignore laws that he thinks get in his way. Mr. Gonzales was disdainful of any attempt by Congress to examine the spying program, let alone control it.
More...