Impeach Alberto Gonzales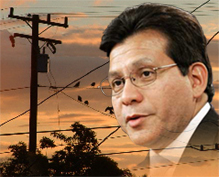 (Again, just speaking for me, not Talk Left.)
The New York Times Editorial Page:
During the hearing on his nomination as attorney general, Alberto Gonzales said he understood the difference between the job he held — President Bush's in-house lawyer — and the job he wanted, which was to represent all Americans as their chief law enforcement officer and a key defender of the Constitution. Two years later, it is obvious Mr. Gonzales does not have a clue about the difference.

He has never stopped being consigliere to Mr. Bush's imperial presidency. If anyone, outside Mr. Bush's rapidly shrinking circle of enablers, still had doubts about that, the events of last week should have erased them.

. . . It was Mr. Gonzales, after all, who repeatedly defended Mr. Bush's decision to authorize warrantless eavesdropping on Americans' international calls and e-mail. He was an eager public champion of the absurd notion that as commander in chief during a time of war, Mr. Bush can ignore laws that he thinks get in his way. Mr. Gonzales was disdainful of any attempt by Congress to examine the spying program, let alone control it.
More...
The attorney general helped formulate and later defended the policies that repudiated the Geneva Conventions in the war against terror, and that sanctioned the use of kidnapping, secret detentions, abuse and torture. He has been central to the administration's assault on the courts, which he recently said had no right to judge national security policies, and on the constitutional separation of powers.

His Justice Department has abandoned its duties as guardian of election integrity and voting rights. It approved a Georgia photo-ID law that a federal judge later likened to a poll tax, a case in which Mr. Gonzales's political team overrode the objections of the department's professional staff.

. . . We opposed Mr. Gonzales's nomination as attorney general. His résumé was weak, centered around producing legal briefs for Mr. Bush that assured him that the law said what he wanted it to say. More than anyone in the administration, except perhaps Vice President Dick Cheney, Mr. Gonzales symbolizes Mr. Bush's disdain for the separation of powers, civil liberties and the rule of law.

On Thursday, Senator Arlen Specter, the senior Republican on the Senate Judiciary Committee, hinted very obliquely that perhaps Mr. Gonzales's time was up. We're not going to be oblique. Mr. Bush should dismiss Mr. Gonzales and finally appoint an attorney general who will use the job to enforce the law and defend the Constitution.