Libby: Can I Get a Witness?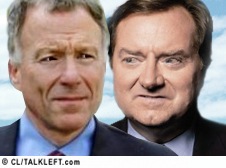 I have an op-ed in the Washington Examiner on why Libby wants to call Cheney as a witness, particularly if Libby doesn't testify.
Tim Russert is still on the witness stand and there was lots of legal wrangling over Andrea Mitchell's statements going on. The Judge ruled this morning Russert can't be questioned about her statements.
The defense wants to call her as a witness and Fitz has filed this brief (pdf) seeking to preclude them "from eliciting testimony regarding her knowledge, prior to July 14, 2003, that Valerie Plame Wilson worked for the CIA, for the purpose of attempting to impeach her with a prior statement that would otherwise be inadmissible." Fitz argues such impeachment is improper and should be excluded.
The other fight coming up is over the defense plan to call Jill Abramson of the New York Times to impeach Judy Miller. Fitz' brief is here, Libby's is here.
Firedoglake is live-blogging the proceedings. Tom Maguire has background.