Rudy's Speaking Fees Raise Eyebrows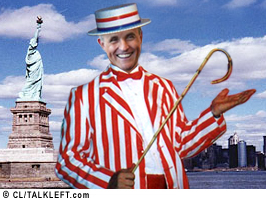 The Chicago Tribune reports on Rudy's speaking fees and the questions it raises for his potential presidential bid.
He commands $100,000 for a speech, not including expenses, which his star-struck clients are happily willing to pay. In one speech last year at Oklahoma State University, Giuliani requested and received travel on a private Gulfstream jet that cost the school $47,000 to operate. His visit essentially wiped out the student speakers annual fund.

Like other high-priced speakers in the private sector, Giuliani routinely travels in style. Besides the Gulfstream, which is a standard perk on the big-time speakers circuit, his contract calls for up to five hotel rooms for his entourage, including his own two-bedroom suite with a preferred balcony view and king-size bed, in the event of an overnight stay. The Oklahoma contract also required a sedan and an SUV, restrictions on news coverage and control over whom Giuliani would meet, how he would be photographed and what questions he might be asked.
Then there is his investment bank, which he is trying to sell, and his consulting and security businesses.
His spokesperson says: