Libby's Theory of Defense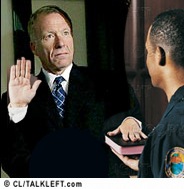 The jury continues to hear tapes of Scooter Libby's grand jury testimony today. Swopa at Firedoglake and the Media Bloggers' Association's bloggers are live-blogging.
I can't draw conclusions until I've read transcripts of all of his testimony. But, as to what Libby's lawyers will argue to the jury, here is the "Theory of Defense Instruction" (pdf) they have asked Judge Walton to read to the jurors as part of his instructions at the end of the case.
A defendant is entitled to a "theory of defense" instruction, but there has to be evidence presented during the trial to support it. I don't think Judge Walton will give it exactly as written, but it's revealing in showing where Team Libby is headed.