Libby's Grand Jury Testimony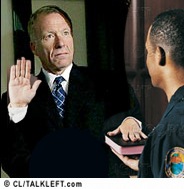 Seven hours of Scooter Libby's grand jury testimony is now being played for the jury. Swopa is live-blogging over at Firedoglake.
Fitzgerald filed transcripts of these 20 pages (pdf) of his testimony as an exhibit in May, 2006. His argument to go along with the transcripts is here.
Start with page 4 and the section, "The Annotated Wilson Op Ed is Relevant to Establish that Defendant's Immediate Superior Was Concerned that Mr. Wilson Was Sent on a Junket by his Wife, and Communicated His Concern to Defendant."
Fitz will use this section as context for Russert being his closing witness, after the tape playing is finished. Fitz writes Libby told the grand jury