Will Cheney Testify for Libby?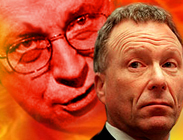 Doubts are growing in the blogosphere that Dick Cheney will in fact be a witness for Scooter Libby at his trial. Marcy (Empty Wheel) explores this today at Huffington Post and concludes Cheney won't be called.
Marcy reminds us that FBI Agent Bond testified Thursday that Libby told the FBI in his second FBI interview in the fall of 2003 that he and Cheney might have discussed leaking Plame's identity to reporters.
As soon as Libby admitted to talking with Cheney about leaking Plame's identity, he committed to one of two scenarios: either he and Cheney both forgot Plame's identity, both learned it "as if it were new" from journalists, and thought that a piece of news that was forgettable in June was so newsworthy in July that they should share it with journalists. Or, he and Cheney learned of Plame's identity through classified channels and a month later decided to share that information with journalists. We're in the realm of an IIPA violation, folks, barring Cheney claiming that he declassified Valerie Wilson's identity ... without telling her (which is where I think Cheney's prepared to go, if it gets that far--that should make the Wilsons' civil suit all the more delectable, I think).
I think there's another reason Cheney will back off from testifying -- and it goes to the heart of the case against Libby.