Libby Juror Dismissed, Will Continue With 11 Jurors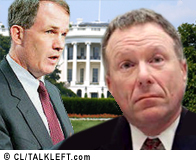 There were problems this morning with a juror in the Libby case having seen something in the media over the weekend. The juror has been dismissed.
According to Jane at Firedoglake and Aldon Haynes who is live-blogging at Orient Lodge for Media Bloggers, the defense opted to go with 11 jurors while Fitz wanted to put in an alternate and stay with 12.
If they put in an alternate, the jurors would have to begin deliberations anew. The Judge agreed to go with 11 jurors. That's what they are doing.
The dismissed juror is the retired art curator and lone juror who wouldn't wear red on Valentine's Day:
The woman who was dismissed from jury is an art history expert and scholar who formerly served as a curator of prints at the Metropolitan Museum of Art.