Libby: The Charged Lies in Counts 1, 2 and 5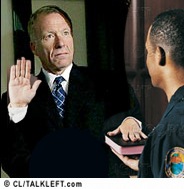 In preparation for Tuesday's closing arguments, it may be helpful to distill the charges and alleged lies of Scooter Libby, from the Government's point of view, since it has the burden of proof. In subsequent posts, I'll look at the defense arguments and the points of contention that still exist over jury instructions.
Note, this series of posts is not sexy. They are dry and may not be of interest to anyone not closely following the legal aspects of the case.
There are five counts against Libby. The first is obstruction of justice. Counts two and three are false statements to federal investigators in the fall of 2003; Counts four and five allege perjury before the grand jury in March, 2004.
Yesterday, the Government filed this brief outlining its position on the verdict forms the jury should receive as to counts 1, 2 and 5.
According to the Government, to convict Libby of obstruction of justice, it must unanimously conclude at least one of these statements which Libby made to the grand jury is false:
More...