Can Team Libby Pull It Off?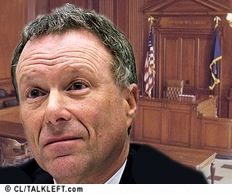 [Cross Posted at Huffington Post]
The Libby trial is going out with a whimper. PlameGate followers, like Jane Hamsher of Firedoglake, feel cheated. Without testimony from Vice President Cheney or Scooter Libby, there's no bang for the buck.
"When Ted Wells came back from lunch today and announced that he had released Dick Cheney as a witness I was damn near brokenhearted. After all that, and Shooter lets me down. Did he not want to testify on Libby's behalf, did Team Libby decide he could do more harm than good, or did they never intend to call him at all? We'll probably never know."
For those who believe criminal trials should be a search for the truth, I sympathize. But that's not the purpose of a criminal trial. A criminal trial is simply a testing of the evidence. The only issue is whether the prosecution can prove its charges (pdf) beyond a reasonable doubt.
Scooter Libby is not required to prove he didn't lie or obstruct justice. All he has to do is raise a reasonable doubt in the mind of the jurors that he did.
The test for reasonable doubt is not a simple weighing of the evidence, after which the jury decides which side to believe more. That's the test in a civil case where the standard of proof is a mere "preponderance of the evidence."
In layman's terms, in a criminal case, if both sides' theories and arguments sound plausible, that alone is a reasonable doubt and the jury should acquit.