Libby: The Fight Over Andrea Mitchell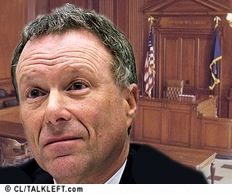 The pleadings flew hot and heavy this weekend over whether Andrea Mitchell will testify at the Scooter Libby trial. Fitzgerald's latest is here and Libby's is here.
Fitzgerald is trying to block Mitchell's testimony. He doesn't want Libby to question her about this statement that she made on Capitol Report on October 3, 2003.
MURRAY: And the second question is: Do we have any idea how widely known it was in Washington that Joe Wilson's wife worked for the CIA?

MITCHELL: It was widely known among those of us who cover the intelligence community and who were actively engaged in trying to track down who among the foreign service community was the envoy to Niger. So a number of us began to pick up on that. But frankly I wasn't aware of her actual role at the CIA and the fact that she had a covert role involving weapons of mass destruction, not until Bob Novak wrote it.
Andrea Mitchell has since disavowed the statement, saying she was confused, or it was taken out of context, or she was just wrong. Here's one of her explanations: