Libby: The Fight Over Andrea Mitchell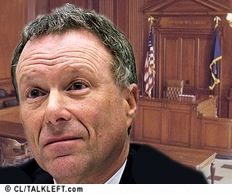 The pleadings flew hot and heavy this weekend over whether Andrea Mitchell will testify at the Scooter Libby trial. Fitzgerald's latest is here and Libby's is here.
Fitzgerald is trying to block Mitchell's testimony. He doesn't want Libby to question her about this statement that she made on Capitol Report on October 3, 2003.
MURRAY: And the second question is: Do we have any idea how widely known it was in Washington that Joe Wilson's wife worked for the CIA?

MITCHELL: It was widely known among those of us who cover the intelligence community and who were actively engaged in trying to track down who among the foreign service community was the envoy to Niger. So a number of us began to pick up on that. But frankly I wasn't aware of her actual role at the CIA and the fact that she had a covert role involving weapons of mass destruction, not until Bob Novak wrote it.
Andrea Mitchell has since disavowed the statement, saying she was confused, or it was taken out of context, or she was just wrong. Here's one of her explanations:
"So clearly back in October of '03, I screwed it up. . . . I was quite surprised to hear about [making the October 2003 statement] because it isn't consistent with anything in my memory. I can't find any notes that reflect this, this alleged knowledge, and so I was muddled on the timeline, that is all I can imagine.".
Team Libby wants to impeach her with the statement, to show that there is a possibility she did know about Joseph Wilson's wife prior to the Novak article, and if that's the case, she would have told Russert, and Russert's memory might be wrong that he never mentioned it to Libby. Libby told investigators and the FBI that he forgot having learned it from Cheney in June, and when he heard it from Russert on July 10 or 11, it was like he was learning it for the first time. Russert is adamant the subject never came up in their conversation and he didn't know anything about it until he read Novak's column.
Team Libby writes:
When Ms. Mitchell is on the witness stand, we wish to explore how she was intensely focusing on the Wilson matter during the time period of July 6 through July 14 (although, as promised, we will not ask her to reveal the identity of her sources). If she denies that it is possible that she "began to pick up" on the fact that Mr. Wilson's wife worked for the CIA prior to July 14, we will move to impeach her with her October 2003 statement. Thus, the defense has a good faith basis for calling Ms. Mitchell – to elicit testimony about how she paid significant attention to the Wilson story and how it is likely that she did in fact her a rumor that Mr. Wilson's wife worked for the CIA.

....The defense contends that if Ms. Mitchell had not retracted her prior statement, great embarassment would have been caused to Mr. Russert and the NBC television network, particularly because the indictment against Mr. Libby was based in large part on testimony provided by Mr. Russert. Accordingly, the defense may also wish to elicit testimony from Ms. Mitchell regarding her retractions of her October 3, 2003 statement.
Libby says that if Mitchell says she didn't know about Valerie Plame Wilson before Novak's article, he has a right to impeach her with her October 3 prior inconsistent statement. But Fitzgerald says it's not a prior inconsistent statement because she disavowed it early on and has consistently maintained since then she didn't know about Wilson's wife working for the CIA prior to Novak's column. Mitchell's lawyer, not surprisingly, agrees with Fitz:
Ms. Mitchell's counsel stated the following in this Court last week: "Number one, I am representing to you as an officer of the Court that Ms. Mitchell, if called to testify on these matters, would testify that she heard no rumor, that she had no information and no knowledge about the wife of Ambassador Wilson prior to the [July 14, 2003] Novak column." 2/8/07 p.m. Tr. at 101-102. It is quite apparent that there is simply no good faith basis for the defendant to assume that Ms. Mitchell will testify otherwise.
I think the Judge won't let Wells ask Mitchell about her October, 2003 statement. It's too speculative: that the statement may have been true, which means she may have discussed it with Russert, which means Russert might have said something to Libby about Joseph Wilson's wife. Juries aren't supposed to pile inference upon inference in arriving at a conclusion.