Report on Racial Disparity in Imprisonment of Drug Offenders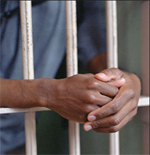 The Justice Policy Institute has a new report "The Vortex: The Concentrated Racial Impact of Drug Imprisonment and the Characteristics of Punitive Counties," on the racial disparity in the imprisonment of drug offenders.
The report confirms that African Americans are imprisoned in far greater numbers than whites.
Of 175,000 people sent to prison for drugs nationwide in 2002, over half were black, though blacks are 13 percent of the population.

It found no relationship between rates at which people are sent to prison for drug offenses and the rates at which people use drugs. The study said 9.2 percent of blacks use illegal drugs, compared with 8.1 percent of whites.
More....