Supreme Court Hears Guantanamo Case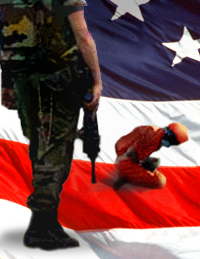 Update: C-Span 3 is stream and playing the audio of the hearing now (11:44 am ET). The AP now has a report, Justices Grill Detainees' Lawyer, on how the arguments went.
The Supreme Court today is hearing oral arguments in the consolidated cases of Boumediene v. Bush and Al Odah v. U.S., 06-1196 regarding the rights of Guantanamo detainees to challenge the legality of their confinement in federal courts.
Lawyers for the foreign detainees contend the courts must step in to rein in the White House and Congress, which changed the law to keep the detainee cases out of U.S. courts after earlier Supreme Court rulings. The most recent legislation, last year's Military Commissions Act, strips federal courts of their ability to hear detainee cases.

Solicitor General Paul Clement, representing the administration, said foreigners captured and held outside the United States "have no constitutional rights to petition our courts for a writ of habeas corpus," a judicial determination of the legality of detention.
The Court may have to determine whether Guantanamo Bay in Cuba is really on U.S. soil. [More...]