A Repentant Imus Returns to Radio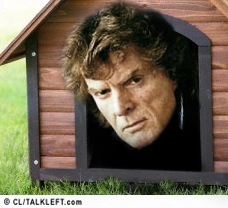 A repentant Don Imus returned to the airwaves this morning.
He's hired two African-American comedians as "sidekicks" and the three will provide ""an ongoing discussion about race relations in this country."
He's vowed to avoid making racially disparaging remarks. He says he deserves this second chance. Among his guests this morning, willing to provide it to him:
Senator John McCain of Arizona, who is seeking the Republican nomination for president, and Senator Christopher Dodd of Connecticut, who is seeking the Democratic nomination; the author Doris Kearns Goodwin, and the political strategists James Carville and Mary Matalin.
Some of his targets remain the same:
"Dick Cheney is still a war criminal," Mr. Imus, 67, told the audience, in an effort to reassure them that he did not intend to completely alter his style, or curb his tongue. "Hillary Clinton is still Satan. And I'm going on the radio."