Campaigns Wind Down for Christmas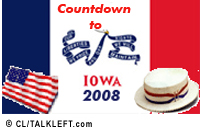 Iowans are about to get two days of relief from political campaigning as the candidates decide to take Monday and Tuesday off.
Here's a look at their last day of stump speeches.
Hillary says she'll help veterans.
Instead of attacking her Democratic rivals, Clinton targeted the Bush administration, which she said has slashed veterans' benefits. She added that she wants to help make up for those mistakes, and said she's already been trying to assist veterans.

"I cannot tell you how many veterans I've had to intervene for, go to bat for, cut the red tape for, who were being denied what was rightfully theirs," she said. "If you are entitled to a benefit, then under our law the president of the United States shouldn't stand in the way, the president should make sure you are given what you have earned and deserve."

Clinton vowed to enact a GI Bill of Rights to expand benefits such as education and housing to service members, veterans and their families.
Barack Obama focused on trade and vowed to protect children from unsafe toys.
John Edwards released a statement responding to Obama's attack's on him: [More...]
"It's no coincidence that as John Edwards rises in the polls in Iowa, Senator Obama is resorting to harsh attacks. But Senator Obama's attacks can't hide the fact that for John Edwards, refusing PAC and Washington lobbyist money wasn't an election year conversion – it's something he's done from the beginning of his career. John Edwards is the only candidate with the courage and backbone to urge the Democratic Party to stop taking lobbyist contributions. If Senator Obama is serious about reform, he should join John Edwards in this challenge.

"John Edwards understands that if you give the powerful interests and Washington lobbyists a seat at the table, they'll eat all the food. That's why he helped lead the fight against insurance company lobbyists to get a Patients' Bill of Rights passed in the Senate."
Chris Dodd gave an interview on FISA to the Iowa Independent.
Bill Richardson is focusing on Iraq and promising to bring our troops home. He went home to New Mexico last night, will return Weds. with 300 N.M. volunteers.
As for where they stand in the Iowa polls, the Des Moines Register says today:
Recent Iowa polls have shown Obama and Clinton trading a narrow lead in Iowa, with Edwards within striking distance. In all recent surveys, there has been a sizable gap between the top three and the rest of the field.