Campaigns Wind Down for Christmas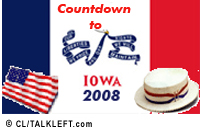 Iowans are about to get two days of relief from political campaigning as the candidates decide to take Monday and Tuesday off.
Here's a look at their last day of stump speeches.
Hillary says she'll help veterans.
Instead of attacking her Democratic rivals, Clinton targeted the Bush administration, which she said has slashed veterans' benefits. She added that she wants to help make up for those mistakes, and said she's already been trying to assist veterans.

"I cannot tell you how many veterans I've had to intervene for, go to bat for, cut the red tape for, who were being denied what was rightfully theirs," she said. "If you are entitled to a benefit, then under our law the president of the United States shouldn't stand in the way, the president should make sure you are given what you have earned and deserve."

Clinton vowed to enact a GI Bill of Rights to expand benefits such as education and housing to service members, veterans and their families.
Barack Obama focused on trade and vowed to protect children from unsafe toys.
John Edwards released a statement responding to Obama's attack's on him: [More...]