TalkLeft Gets Press Credentials for Iowa Caucuses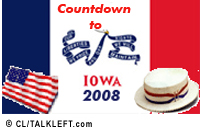 I just received notification that TalkLeft has received press credentials to cover the Iowa Caucuses. Credentials are required for admission to the Polk County Convention Complex, which will be open 24/7 from December 30 to January 4.
On January 3, caucus night, the convention center will be the location of the "big board." This is where real-time numbers from both parties will be reported.
An assigned workspace at the convention center, including an electrical outlet and internet connection, is $200.00. Since media with assigned workspace will have priority to be in the "big board" room on caucus night, I just faxed in my $200.
So, my New Year's Eve will be spent in Des Moines. I'll be in Iowa, along with Jane of Firedogake and other bloggers, from Dec. 31 to Jan. 4. I hope you'll log on to read us.