Giuliani's Predecessor as U.S. Attorney Says He's Mistaken About His Record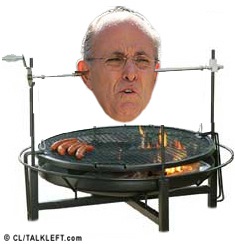 Aside from 9/11, there's nothing Rudy Giuliani touts more than his crime record. Now, even that is being exposed. Former U.S. District Court Judge John Martin, who was Rudy's predecessor as U.S. Attorney for the Southern District of New York, has an op-ed in today's New York Times, The Office I Left Giuliani.
What set Martin off was Rudy's defense of his judgment regarding Bernie Kerik on Meet the Press, saying it had to weighed against his other accomplishments. Rudy said:
"How can I not have pretty good judgment about the people who work for me and not been able to turn around the United States attorney's office?"
Martin responds:
But Mr. Giuliani's claim to have turned around the Manhattan United States attorney's office is not only untrue, it is an insult to the outstanding men and women who have served in that office over the last 50 years.
More...