Giuliani's Predecessor as U.S. Attorney Says He's Mistaken About His Record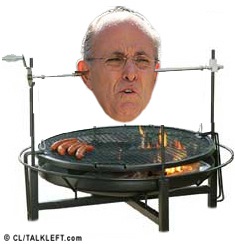 Aside from 9/11, there's nothing Rudy Giuliani touts more than his crime record. Now, even that is being exposed. Former U.S. District Court Judge John Martin, who was Rudy's predecessor as U.S. Attorney for the Southern District of New York, has an op-ed in today's New York Times, The Office I Left Giuliani.
What set Martin off was Rudy's defense of his judgment regarding Bernie Kerik on Meet the Press, saying it had to weighed against his other accomplishments. Rudy said:
"How can I not have pretty good judgment about the people who work for me and not been able to turn around the United States attorney's office?"
Martin responds:
But Mr. Giuliani's claim to have turned around the Manhattan United States attorney's office is not only untrue, it is an insult to the outstanding men and women who have served in that office over the last 50 years.
More...
Martin debunks Rudy's claim that it was his idea to prosecute the heads of the five families in a single indictment under the RICO (organized crime) statute.
While that may be his perception, the idea was first broached by the head of the criminal section of the F.B.I.'s New York office in a meeting with me and my staff approximately a year before Mr. Giuliani took office. By the time he was sworn in, the office was laying the groundwork for that case and had in place wiretaps on three of the five organized-crime families in New York City. Among the lawyers already assigned to those cases were Louis Freeh, later the director of the F.B.I., and Barbara Jones, later the chief assistant district attorney for Manhattan and now a United States district court judge.
Martin then points out that Rudy was able to get convictions on Ivan Boesky and Michael Millken because of earlier flips of Dennis Levine of Merrill Lynch. He concludes:
There is no question that Mr. Giuliani is an able lawyer. It is unfortunate, however, that he feels he must denigrate the accomplishments of others to advance his own political interests. What has made the office of the United States attorney for the Southern District of New York an example of what a great prosecutor's office should be is its tradition of hiring the best lawyers available, without regard to party affiliation, and allowing them to do their job free from political influence. Mr. Giuliani did not have to turn the prosecutor's office around; he simply had to keep it moving forward.